14.4.2022
Investment in more efficient material processing – new Taurus shear baler
A new Taurus mobile share baler costing EUR 1 million is the latest investment in recycling technology at Kuusakoski. The massive machine was taken into use in November 2021 in Finland.
"With the new mobile shear baler, the amount of material processed can be over doubled. It is mobile, efficient, and has many new useful features", says Esa Nikkanen, Site Manager, contentedly.
Fewer miles driven means fewer emissions
"Processing capacity can now be optimised – the machine can be moved to a location where there is a need for material processing. This reduces material transport and is reflected in lower emissions. Fewer miles driven means fewer emissions. Additionally, the shear baler can process challenging material which reduces a need for burn cutting – this again is reflected in lower emissions", comments Tuomas Haikka, Chief Sustainability Officer.
THE FIRST MOBILE MODEL IN ITS SIZE CLASS IN EUROPE
The Taurus shear baler has been produced by a family-owned company Taurus, a world leading manufacturer of quality machines for the recycling industry.
Our investment is the first mobile model in its size class in Europe. It rises hydraulically on its feet, allowing a 10-axis pallet to be moved under it and the device to be moved to another location. Taurus is working in three locations in Finland: the Turku and Pori sites and at the Port of Inkoo.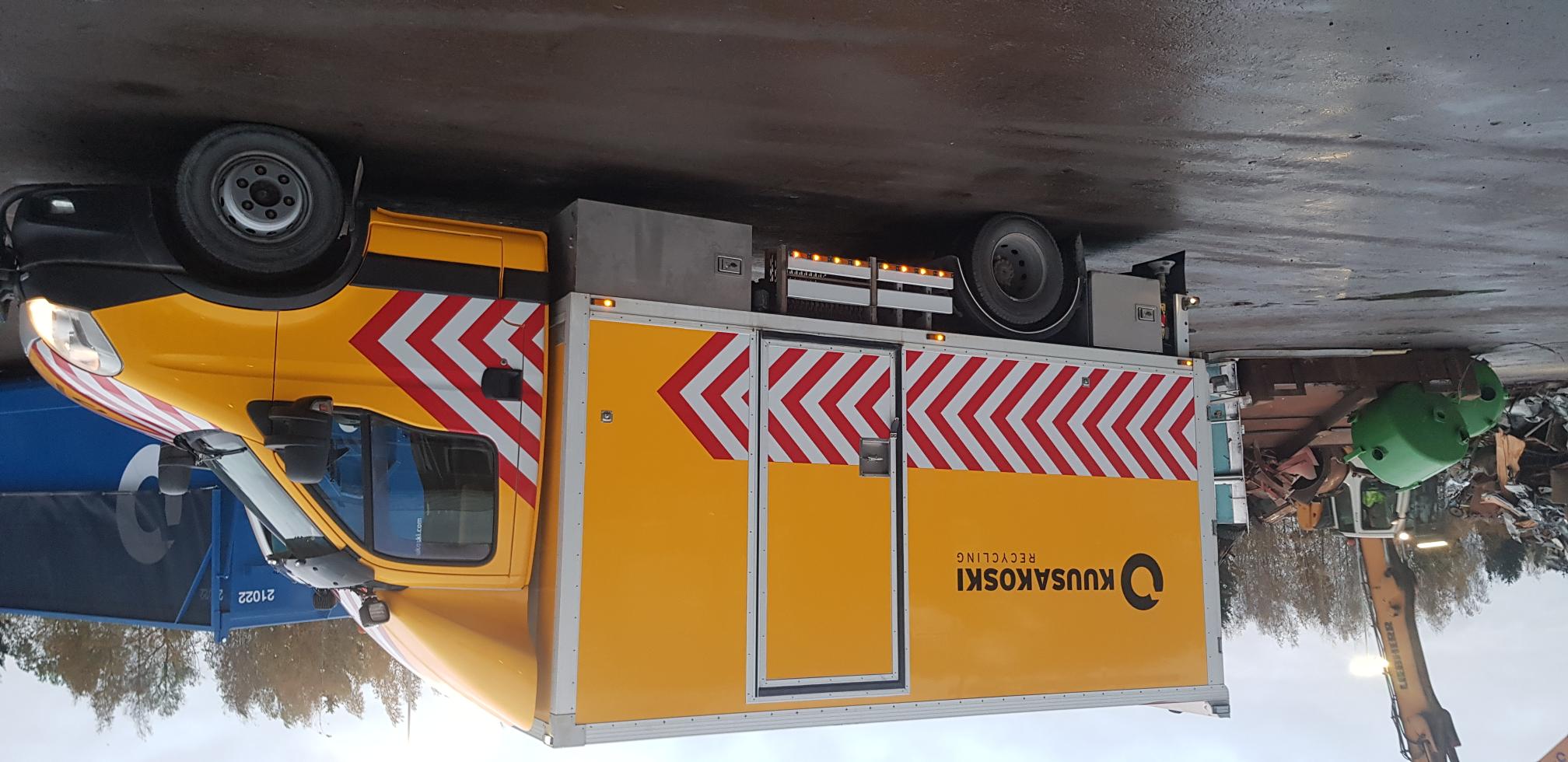 Moving the giant from one site to another requires an escort car.
NOT PERMITTED TO GO OUT WITHOUT AN ESCORT
A special transporter has amazed people on the roads of Southern Finland in the past few months. Moving the giant - 17 meters long, 2,85 meters wide, weighing 85 tons – from one site to another doesn´t happen in an instant. In addition to an experienced professional driver, it requires a transport permit, a few traffic controllers, and an escort car.
Account manager Antero Koskinen next to the shear baler at the Turku site.
CHALLENGING MATERIAL IS ITS PASSION
Taurus can cut steel plates up to 10 cm thick. The hatches play an important role in processing, and this "strongman" has the strong hatches. This helps to process challenging material like large individual pieces.
"The shear baler also has new features that the old machine did not have. We are gradually testing and introducing them. Our new team member - we are really satisfied with, and even proud of it", says Antero Koskinen, Account Manager.